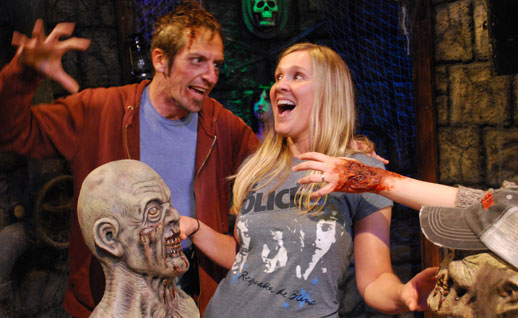 <
>

The man behind the masks at Hoosier Effects Lab
September 22, 2010
Deep in the dungeons of Highland lies a world drenched in blood and gore and inhabited by monsters, mutants and skeletons. It might sound gruesome to the squeamish, but it's all in good fun.
Special effects today are predominantly computer-generated images, and the practices of old-time Hollywood can seem primitive to those accustomed to the latest big-budget CGI spectacle. But a need still remains for the movie magic of classic cinema.
Severed body parts and masks are Doug Goins' stock-in-trade. His Highland workshop, Hoosier Effects Lab, gives birth to a host of props and makeup. Tables teem with projects. The studio also houses a creature feature-style set, complete with a resident skeleton.
Goins creates molds for several Chicago makeup artists. He also sculpts, paints and makes masks. He restores older masks collectors send in and accepts blank pieces for painting. And he dabbles in wax for wax museums. To perfect the craft, you have to learn all aspects of it, he said.
Goins labors away in a loft filled with posters advertising the movies of zombie maven George Romero and horror films such as "Planet Terror" and "The Incredible Melting Man." It would be an ideal clubhouse for the ghoul-busting kids from the film "The Monster Squad."
His earliest influences while growing up in Highland include Forrest J. Ackerman's Famous Monsters of Filmland magazine, distinctive for its coverage of not only actors but also the people behind the scenes. Goins also was raised on late-night horror shows such as the original "Screaming Yellow Theater." (He later created Mildew, a puppet depicting a rotting corpse, for the 1990s TV show "Graveyard Theater.")
Horror genre staples such as "Night of the Living Dead," "Frankenstein," "Creature From the Black Lagoon" and "The Wolf Man" terrified Goins as a child – at first – and then triggered his curiosity. At the local library, he ate up information on the science behind the effects. For Halloween, he used makeup to transform himself and created spookhouses – that included a guillotine – in his garage. A neighborhood girl's shrieks told him he was on the right path.
As Goins got older, his involvement in motocross and motorcycles redirected his energies.
The zombie film "Dawn of the Dead," however, sparked his passion once more with its verve for flesh eating and head trauma. A dearth of quality masks at magic shops convinced Goins he could do better, and he began sculpting more.
Dick Smith, a highly respected makeup veteran, revolutionized Goins' aspirations and lifestyle. Smith is known for his aging techniques in such classics as "Amadeus," "The Hunger," "Little Big Man" and "The Godfather," and effects in horror fare such as "Scanners"and "The Exorcist" and the gritty, climactic shootout in "Taxi Driver."
Goins followed Smith's innovative methods, including his techniques and preventive health care to avoid any damaging effects tied to chemicals of the trade.
Goins began developing projects, which most often emerged spontaneously, and completed a couple of pieces for Death Studios in LaPorte, another special effects workshop in The Region. (Other havens for horror hijinks include DarkSide Studio in Steger, Ill., and the Devil's Workshop in Berwyn, Ill.)
Subtlety is part of Goins' aesthetic style. Modern movies have desensitized audiences, he said, and sometimes excess is just excess. Like many artists, he examines anatomy and pathology books to achieve realism.
"Think of what you need to make it believable," he said.
Even though CGI continues to take a bite out of his trade, lower budget movies seek out artists like Goins because their budgets can't afford costly computer effects. But Goins doesn't look down on CGI. It can be helpful, he said.
He often provides his services for local and independent productions. If they need something quick and effective, Goins is up to the challenge. He thrives on it.
"Working with little or no budget is good training because it allows you to be creative, and thinking on your feet is the challenging part," he said.
His go-to places for raw materials include hardware stores and even items from his girlfriend's purse.
Goins periodically participates in seminars for companies he deals with, to showcase what their products can do. He often attends horror conventions where he said his displays attract a lot of attention and buyers.
Locally, he likes to pop into the Creative Hairstyling Academy in Highland to offer students ideas on imaginative things they can do with hair and makeup. What started out as an appearance for a Halloween class resulted in a semipermanent position as an instructor.
Goins also likes to offer a creative outlet to artists who lack sufficient space. He said he wants to give back out of gratitude for the many people who have helped him.
To find out more about Doug Goins and Hoosier Effects Lab, visit www.hoosiereffectslab.com.