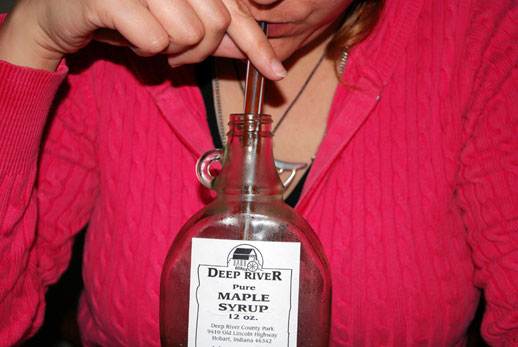 <
>

One Sweet Afternoon of Maple Tapping In the Park
September 22, 2010
My first brush with maple tree tapping came when I was young.
I'm not sure if my school or my folks were responsible for the field trip. My memories are spotty but pleasant. I remember ambling along with a tour group at Deep River County Park in Hobart and trying to use a mortar and pestle to grind some corn by hand in the gristmill.
Twenty-some years later, I returned to Deep River in hopes of gaining an appreciation for how maple sugar and syrup are made -- and of course to enjoy the beauty of spring in one of our local parks.
My husband and I arrived on what was supposed to be a miserable, rainy March day. But what we encountered was far more kind. The sun was shining bright, and the crocuses were in bloom.
We arrived just in time for the free tour that started at 1. The tour lasted no more than a half hour, and we learned about the history of and equipment and methods for collecting and processing maple sap. The county park worker who gave the tour was incredibly thorough and happy to answer all of my many questions, slowly building my confidence in my ability to tap our lone maple tree at home.
After enjoying our crash course on tapping, we were free to explore two different methods of processing the sap. Most members of the group went off together, but I became distracted by a red-bellied woodpecker and, soon to follow, a brown creeper. My husband, having the opportunity to test out our new zoom lens, was happy to take a few shots, and I was happy to have my binoculars on hand so I could get a closer look.
After our birding blip, we wandered over to watch the French-Canadian voyageurs, or canoe men, boil down their share of the sap into sugar. The gentlemen were more than willing to share with us as much information as we wanted, even though they already had given their spiel to our tour group. Our mouths watered while they gave us a rundown of their maple sugar-infused menu items. They also gave us a flier for their annual Voyageur Rendezvous "A Travelers' Gathering" -- http://www.lakecountyparks.com/events.html#Event#9 -- where you can enjoy a day of historical demonstrations, entertainment, food and more.
We then moved on to the sugar shack where we learned that all of the syrup collected from Lake County parks is processed through the evaporator to be made into maple syrup. We were directed to the gristmill where visitors could sample the finished product. I got to try out the mortar and pestle, just like I had years ago. A batch of corn had been freshly ground into cornmeal, and, for the price of $2 for two pounds, we decided to bring home a bag so we could make some cornbread. Before leaving the gristmill, we sampled some delicious maple syrup and found out it was for sale at the gift shop. Needless to say, we then paid the shop a visit because I just had to have a bottle to take home.
Not many people realize that most of the maple syrup you find at your local grocery store contains very little maple syrup. Sometimes, it's nonexistent. Lots of high fructose corn syrup and other not so nice ingredients take its place. The difference is night and day! Once again, I am ruined by the superior taste and quality of food items made from fresh, raw ingredients.
Luckily, I now know that Deep River County Park can provide me with all of my maple syrup needs.
In addition to the bottle of maple syrup, I also took the plunge and purchased a steel bucket, lid and spile (tapping spout) from the gift shop. With our new knowledge of maple tapping, my husband and I plan to give it a whirl in the future. All you really need is at least one maple tree and some simple equipment you can buy at the park.
Once you see just how it's done, you can put on demonstrations for all of your friends and neighbors at home. The only thing missing will be your early French settler garb, but I'm sure with a little bit of poking around online, you can find that as well.
The final segment of our trip included hot cups of coffee, sweetened by our bottle of maple syrup, and a video titled "Maple Sugar Farmer," which documented a man's efforts to live off the land and his method of tapping and processing maple syrup each year to help sustain himself.
My husband and I thoroughly enjoyed our afternoon at Deep River County Park and look forward to another visit very soon. Since maple tapping comes just after the winter thaw, you won't be able to enjoy this tradition again until next March.
Do be sure to visit the Lake County parks website -- http://www.lakecountyparks.com/ -- where you can find a full calendar of events to keep you busy all year long.