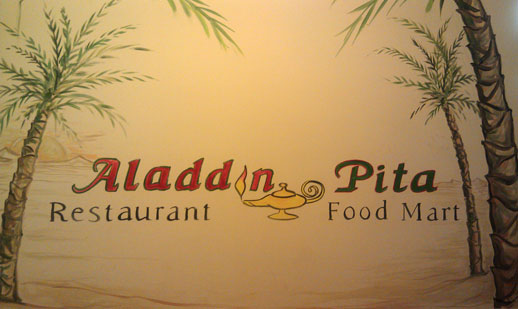 <
>

Bringing the Middle East to the Middle West
February 21, 2012
While the term "flash mob" has gotten some bad publicity, we decided to embrace the spirit of the term with a more fun and noncriminal approach. This review begins a series of flash mob dining experiences with the Region Rambler.
We name a time and place, and people who are available come out to enjoy The Region's restaurants. We welcome you to join us. If you're interested in taking part in future flash mob dining, check out the information on how to get involved at the end of this review.
Where are we going?
Aladdin Pita Restaurant & Food Mart
3750 W. 80th Lane
Merrillville, IN 46410
(219) 736-5204
Summary:
Aladdin Pita is one of my all-time favorite restaurants to visit in the area. Being what you call a pescetarian, which is a relatively new term for a vegetarian that eats fish, I'm always happy to find a restaurant with lots of meatless options. Don't worry, though: If you're a carnivore, there are plenty of options for you as well.
The mob:
Though our "flash mob" was small, I was joined for dinner by Mr. Leather and Rodney Eckrich.
The dish:
Aladdin Pita serves some of the finest Middle Eastern cuisine in the area. The food is so good I figure it just has to be authentic. Since I lack the expertise to know, I asked another patron of the restaurant, who happened to be from Egypt and grew up throughout the Middle East. He was able to confirm my assumption and told us he frequently stops in for a bite when he's in the area. He lives in Tinley Park, Ill.
Feeling adventurous?
Order a hookah for the table. There's a whole menu of shisha (hookah tobacco) flavors to choose from.
What are you having?
Jolene: Though I love a menu that offers me many vegetarian and seafood options, I'm incredibly boring when it comes to restaurants I love and have a very difficult time veering away from my usual. At Aladdin Pita, I always order a cauliflower sandwich, which consists of a fresh baked pita stuffed with lettuce, tomato and fried cauliflower and comes with a side of tahini. I also always order a side of feta cheese, which I share with my fellow diners because even as a huge cheese fanatic, it's too large of a portion to consume on my own. My sandwich also comes with a choice of soup. I always opt for the lentil, which is on the menu daily. I like the soup a lot. I order a cup to go on every visit.
Mr. Leather: The vegetarian platter is always my first choice at Aladdin because I love the variety. I'm not a vegetarian, and the kababs at Aladdin are excellent, but I get mad cravings for the vegetarian platter at least once a month. Why? One word: variety. Rather than filling up on one meal, I get a little bit of each of my favorites. Sure, they already give you hummus and baba ghannoug (an eggplant dip) as appetizers, but I can't get enough, so more is good, and the restaurant's hummus is great. The generous portion of tabboulleh salad (crushed wheat, tomatoes, parsley, and fresh mint mixed with lemon juice and oil) helps me feel better about getting some greens. The stuffed grape leaves (stuffed with rice, herbs and spices) seemed particularly warm, juicy and delicious on this occasion, but I gave two away because I needed to save room for my favorite part: four toasty, perfect falafel patties—the best I've found anywhere—dipped in tahini sauce. For the unacquainted, falafel is like a gateway drug to vegetarianism—crispy, fried balls of ground chick peas, vegetables and spices. The only thing that could possibly make Aladdin's falafel better is the act of dipping them in tahini—a miraculous taste-sensation made from sesame paste mixed with olive oil, garlic and lemon juice.
Rodney: I must admit that I don't have the most experience with this type of food, and my visit to Aladdin Pita was a first. The pita bread provided was very good. While I have had pita bread before, the bread provided here almost filled me up before my actual meal came. Chris hooked me up with two grape leaves, which was the perfect amount for me. I don't know if I would ever order them, but they weren't bad by any means. I went with a plain chicken kabab sandwich and put in feta cheese for my dinner. It was delicious, and I definitely would come back to Aladdin Pita to try other things from the menu.
Did you get enough?
I've never left hungry, and yet I've never had room for dessert. One way the restaurant guarantees you leave with a full tummy is by bringing out small dishes of hummus, baba ghannoug, Arabian salad, labna and fresh hot pitas as appetizers. If you're into trying a lot of different things and want to be extra sure you'll get enough to eat, try out the buffet on Thursday and Sunday nights from 4 to 9 p.m. You won't be disappointed.
Would you like a drink with that?
Alcohol is not on the menu, but they have a nice assortment of juices, teas—and of course, Turkish coffee.
Will your sweet tooth be satisfied?
If you save room, most definitely. Though I've never ordered dessert while dining in, I oftentimes bring home something sweet from their market. On this visit, I was thrilled to find that the store had Turkish cotton candy!
The scene:
The restaurant is a fairly large open room with booths along the walls and tables in the middle. One side of the restaurant allows smoking, but I assure you that if you are on the opposite side of the room, you will not even know there's smoking going on, except when you hear the bubbling of the hookahs. Hookahs don't seem to produce smoke the way cigarettes do, so the air is never just filled up with smoke.
Who's coming for dinner?
The dining crowd seems to be quite varied. I've seen groups of teenagers, families with young children, groups of adults, single adults and probably any other restaurant-going type you can think of.
Table for two?
Sure. This is a great place to take a date for an excellent meal that won't break the bank. Shows you've got some culture to you, too.
Is that what you're wearing?
This place is nice and casual, but not in a bad way. The crowd always looks pretty well put together.
Locally owned?
Yep. Members of a local Palestinian family brought the wonderful cuisine of their region to our Region.
Big tip?
The waitstaff is always friendly and attentive.
What's the damage?
Another reason why I love this place. For all three of our meals, including the appetizers I mentioned earlier, our total came to $28 and some change. Not bad, not bad at all.
Will you be back?
Absolutely
So you want to join us for some flash mob dining throughout The Region? Send an email to jolene@regionrambler.com with Flash Mob Dining in the subject line.