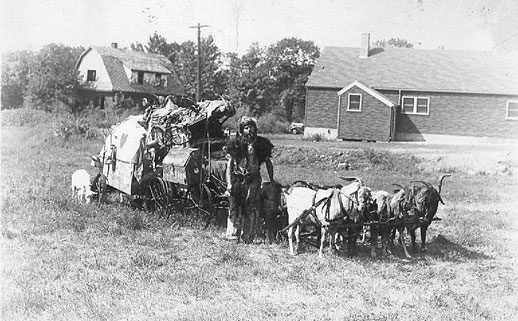 <
>

A guide to history museums and societies
September 26, 2012
Out with the old and in with the new. That's the way of life. Yet we have a profound need to not forget the past.
The Region is home to many communities with interesting and colorful histories, shaped by geology, people and events.
Many institutions maintain a record of The Region's history and are here to entertain, educate and help with research—not just on local history but also genealogy.
LAKE COUNTY
Buckley Homestead County Park
The park is a living farm and museum. It stages historical re-enactments and hosts events.
3606 Belshaw Road, Lowell
(219) 769-PARK
http://www.lakecountyparks.com/buckley.html
Dyer Historical Society and Glen Eberly Museum
The museum houses records and mementos from the farms, businesses and families of Dyer, as well as the historical Ideal Section of the Lincoln Highway (U.S. 30).
One Town Square, Dyer
(219) 865-6108
http://www.townofdyer.com/default.aspx?T1=4&T2=6&T3=2&T4=0
East Chicago Historical Society
The city's main public library houses a room that offers information on East Chicago's history.
2401 E. Columbus Drive, East Chicago
(219) 397-2453
http://www.ecpl.org/page7/page17/index.html
Gary Historical & Cultural Society
The society is dedicated to preserving the history, historical structures and rich culture of Gary.
(219) 886-1812
ghcs@email.com
http://ghcs.tripod.com/
Griffith Historical Society and Museum
The building that houses the museum was the last surviving train depot — it was saved from being demolished — in a railroad-centric town.
201 S. Broad St., Griffith
(219) 924-9701
http://www.griffithhistoricalsociety.org/
Hammond Historical Society
Hammond's history is showcased in the local history room of the Hammond Public Library.
564 State St., Hammond
(219) 931-5100
http://www.hammondindiana.com/society_page.html
Highland Historical Society
The town museum is at the Lincoln Center.
2450 Lincoln St., Highland
highlandhistory@sbcglobal.net
The society has a Facebook page. Use the keywords "Facebook Highland In Historical Society" in an Internet search.
Wood's Historic Grist Mill and Visitor Center (Deep River County Park)
Visit an old grist mill and sugar shack where maple syrup is made in the spring and see vintage baseball games in the summer at the park. Don't forget to stop by the visitor center, housed in a 1904 church, for some real maple syrup and cornmeal.
9410 Old Lincoln Highway, Hobart
(219) 769-PARK
http://www.lakecountyparks.com/activities/deep_river/woods_mill.html
Hobart Historical Society and Museum
Once known for its brickyards, Hobart has a rich and vivid history. Check it out.
706 E. Fourth Street, Hobart
(219) 942-0970
The society has a Facebook page. Use the keywords "Facebook Hobart In Historical Society" in an Internet search.
John Dillinger Museum (Indiana Welcome Center)
The museum examines the life of the FBI's first Public Enemy No. 1—John Dillinger—as well as his crimes and famous escape from the old Lake County Jail in Crown Point.
7770 Corinne Drive, Hammond
(219) 989-7979
http://www.dillingermuseum.com/
Lake County Historical Museum
Learn about the history of Lake County and see an expansive collection of artifacts and historical items in the beautiful old Lake County Courthouse.
Courthouse Square, Suite 205, Crown Point
(219) 662-3975
http://www.cpcourthouse.com/
Lake County Sheriff's House and Jail Museum
The museum served as a setting for the Johnny Depp film "Public Enemies," which includes scenes that dramatize John Dillinger's daring escape. Tours are available only during warmer months.
232 Main St., Crown Point
crownpointjail@gmail.com
The museum has a Facebook page. Use the keywords "Facebook Old Jail Sheriff's House" in an Internet search.
Lake of the Red Cedars Museum
View the history of Cedar Lake when it was a popular resort town—in the last resort hotel from that era.
7408 Constitution Ave., Cedar Lake
(219) 374-7000
http://www.cedarlakehistory.org/museum.php
Lake Station Historical Society and Museum
The west end of Lake Station, called Liverpool, was at one time the Lake County seat. Find out more historical facts.
2400 Central Ave., Lake Station
lakestationhs@yahoo.com
The society has a Facebook page. Use the keywords "Facebook Lake Station Historical Society" in an Internet search.
Little Red Schoolhouse and Museum
The schoolhouse was built in 1869 and was a destination for many local school field trips.
Hessville Park, 7205 Kennedy Ave., Hammond
(219) 844-5666
Merrillville-Ross Township Historical Museum
The building that houses the museum was once an old school converted into town offices. It has a wonderful historical collection for the town of Merrillville and Ross Township with special exhibits and programs during the year.
13 W. 73rd Ave., Merrillville
(219) 756-2042
http://www.lakenetnwi.net/member/merrillvillehistory/
Munster History Museum
Housed in the 1910 Kaske House, the museum sits on the site of an old stage coach stop.
Southeast corner of Columbia Avenue and Ridge Road, Munster
(219) 836-6530
http://www.munsterhistory.org/munstermuseum.html
Halstead House Museum (Three Creeks Historical Association)
The Three Creeks consist of Cedar Creek, West Creek and Eagle Creek townships. The association oversees the Halstead House in Lowell, the first brick home in Lake County.
Three Creeks Historical Association, 151 N. Fremont St., Lowell
Halstead House, 201 E. Main St., Lowell
http://www.lowellpl.lib.in.us/0lowell/histassn.html
Whiting-Robertsdale Historical Society and Museum
The museum keeps a collection of written and recorded memoirs from local residents.
1610 119th St., Whiting
(219) 659-1432
http://www.whitingindiana.com/historical_society.php
LAPORTE COUNTY
Barker Mansion
Built by John H. Barker, who made his fortune manufacturing railroad cars, the mansion is used as a civic center and offers tours and other events during the year.
631 Washington St., Michigan City
(219) 873-1520
http://www.michigancity.com/BarkerMansion/BarkerMansion.html
Great Lakes Museum of Military History
With memorabilia as far back as the Revolutionary War, this museum looks at the military history of the U.S. and other countries.
360 Dunes Plaza, W. U.S. 20, Michigan City
http://www.militaryhistorymuseum.org/
Hesston Steam Museum
Take a ride on 1/4- and 1/8-scale steam locomotives. Too small for you? Then hop on the museum's real locomotive for a 2 1/2-mile ride through forest and farmland. Don't forget to see the steam-powered saw mill, railroad steam crane and many other steam-powered machines.
1201 E. 1000 North, LaPorte
http://www.hesston.org/
LaPorte County Historical Society Museum
This museum features extensive exhibits and artifacts from the history of Laporte County, including LaPorte's "Lady Bluebeard," Belle Gunness.
2405 Indiana Ave., LaPorte
(219) 324-6767
http://www.laportecountyhistory.org/
Old Lighthouse Museum
The lighthouse in Michigan City was built in 1858.
One Washington St., Michigan City
(219) 872-6133
http://www.oldlighthousemuseum.org/
PORTER COUNTY
Alton Goin Museum and Trager Farm
Located in Countryside Park, this museum features the history of Portage Township through artifacts and exhibits.
5250 U.S. 6, Portage
(219) 762-8349 (during museum hours) or (219) 762-1675
http://www.rootsweb.ancestry.com/~inpchs/
Bailly Homestead and Chellberg Farm
The home and farm that make up this living museum were once an 1822 fur trading post.
U.S. 20 and Mineral Springs Road, Porter
(219) 395-1882
http://www.indianadunes.com/explore-the-area/indiana-dunes/details/?listingid=18166
The Depot at Beverly Shores Art Gallery and Museum
The art gallery and history museum are housed in the residence of the old station master for the old South Shore train depot. You will find artwork by local artists and a collection of local history.
525 Broadway, Beverly Shores
(219) 874-8000
http://www.duneland.com/aer/art-galleries/depot-beverly-shores-art-gallery-gift-shop-museum.html
Duneland Historical Society
The society is dedicated to preserving Duneland's history.
(219) 926-7696 (Westchester Public Library)
http://www.dunelandhistoricalsociety.blogspot.com/
Hourglass House Museum (Historical Society of Ogden Dunes)
Housed in the Hour Glass home built by Professor O.D. Frank, the museum displays art and artifacts from the Ogden Dunes area.
8 Lupine Road, Ogden Dunes
http://www.odhistory.org
Kankakee Valley Historical Society
The society is dedicated to preserving the history of the Kankakee River and Valley and is very much involved in the Collier Lodge archaeological dig.
(219) 766-2302
jophod@gmail.com
http://www.kankakeevalleyhistoricalsociety.org/
Porter County Museum of History
The museum, housed in an old jail, presents the county's history.
153 Franklin St., Valparaiso
(219) 465-3595
info@pocomuse.org
http://www.portercountymuseum.org/
Stagecoach Inn and Panhandle Depot museums (Hebron Historical Society)
Hebron's museum sits in an old stagecoach inn, and behind it in an old train depot sits a train museum.
127 N. Main St., Hebron
(219) 996-3192
http://www.indianadunes.com/things-to-do/details/?listingid=17961
Westchester Township History Museum
Located in the 1885 Brown Mansion, the museum features the histories of Chesterton, Porter, Burns Harbor and Dune Acres.
700 W. Porter Ave., Chesterton
(219) 983-9715
http://wpl.lib.in.us/museum/
Wizard of Oz Museum
It is dedicated to the beloved children's book and film "The Wizard of Oz." It has been the site and inspiration for Chesterton's Wizard of Oz Festival.
5342 Buckeye Ave., Portage
(219) 762-3264
yellowbrickrdshop@yahoo.com
http://yellowbrickroadonline.com/index.html
Valparaiso Fire Museum
The museum is dedicated to the history of firefighting.
3701 Innovation Way, Valparaiso
(219) 462-6161
http://www.indianadunes.com/things-to-do/details/?listingid=17964
To offer a submission for a museum or historical society, or to contribute any information to this list, please email Paul A. Benninghoff at paul@regionrambler.com.