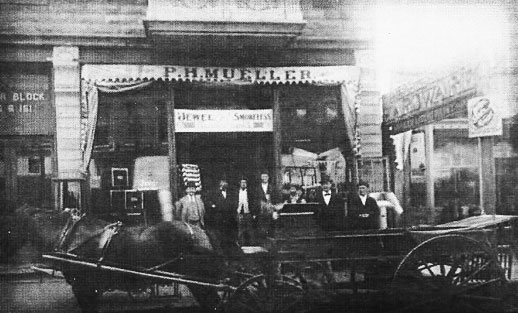 <
>

History, hardware and art interlock at Hammond store
September 22, 2010
Inside a building with worn hardwood floors and a tin ceiling lies an abundance of treasures resting on shelves from the turn of the 20th century.
On one side, Case brand pocketknives, hardware items and antiques mingle. Populating other rooms are paintings, drawings, photos and an array of arts and crafts.
A hardware store and an art gallery make for an unlikely couple, but the marriage works.
The historical building at 416 Sibley St. in Hammond houses P.H. Mueller Sons and Paul Henry's Art Gallery. A gentleman by the name of Paul Henry Mueller moved his hardware store there in 1902 after opening it in 1887 along Hohman Avenue in the city's downtown.
His great-grandson David Mueller presides over the hardware store and opened the gallery in October 2008 as a showcase for local artists and craftspeople.
The gallery's a great place to check out for original artwork to beautify your home. The oak shelves and cabinets are filled with pottery, jewelry, woodcrafts, sculptures and household items, and paintings, drawings and photos dot the walls. Among these creations are unique gifts that no retailer can match.
The place has a welcoming feel to it, of a family-owned establishment that was the norm for an era gone – but not forgotten here.
Mueller also uses the gallery space for events. Along with exhibits and artist receptions he has hosted musicians, guest speakers, an occasional art class and other mixers.
P.H. Mueller Sons and Paul Henry's Art Gallery are nifty places to visit and shop. As a flier points out, "Visiting Paul Henry's Art Gallery is more than just a trip to a gallery; it's a trip back in time."
To find out more about the store and gallery, visit http://www.paulhenrysart.com or look them up on Facebook.com. You also can call (219) 678-5015 or e-mail info@paulhenrysart.com.
They're open from 10 a.m. to 7 p.m. from Tuesday to Saturday and noon to 5 p.m. on Sunday. They're closed on Monday.