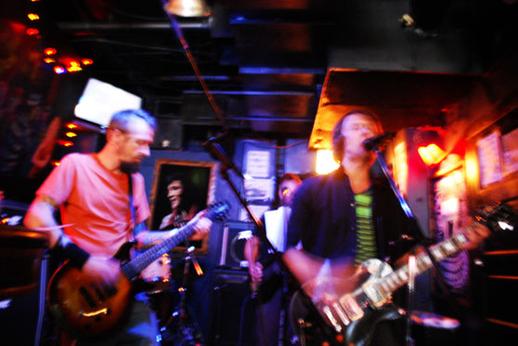 <
>

Part 2: It's Time to Rock
September 6, 2012
It's too early for rock'n'roll … far too bright and sunny, as the hordes overcrowding the beaches along Lake Shore Drive serve to remind me. And yet, I'm late. It shouldn't be this way. When I left my house in Munster I had two hours to spare. Two hours to drive 30 miles to Delilah's on North Lincoln Avenue in Lincoln Park. But every day brings a lesson to learn, and apparently today's lesson is that you can never underestimate Chicago traffic. It's been a rough week, and now thanks to the parking lot formerly known as Lake Shore Drive, it's looking like I might miss the debut performance of The Figbeats. This is a problem. If I don't make it, I have no story. The last five minutes leading up to the show resemble Dustin Hoffman's mad dash in "The Graduate." As I reach Delilah's, I am about to get a second lesson for the day.
I open the door just as someone yells 1-2-3-4, and somehow magically it's NYC circa 1977. Delilah's is as gloriously cruddy as I remember, but what had got my attention is how good it sounds as I enter the room. With the opening chords of "Diagnosis," a week's worth of stress melts away, and the simple joy of a great song is all that matters. This is not the same band from the rehearsal three weeks ago. Yes, they are The Figbeats, but now they are a well-oiled machine, playing with confidence and—most importantly—having fun. "Diagnosis" is almost too perfect. It's a song that seems too obvious to not have been written 35 years ago during punk's heyday. It feels dangerous to point out such connections. Nobody wants to be pigeonholed, but this feels less like a hole than a launching point. The thing that made punk rock great was the fact that it stripped things down to the simple elements that made rock great in the first place. There is something vital and real and very much of the moment to this music, too, and that's about as much as you can ask of a song. This is no retro act, and The Figbeats are no one-trick pony.
The crowd seems pleased, too. They're as animated as any crowd I've seen in awhile. Maybe it has something to do with being in close quarters. When I heard the show was at Delilah's, I had wondered why more bands didn't play there. I had forgotten how tiny it is. Half the band fits on the small riser in the corner designed more for DJs than a rhythm section. As bassist Jim Senderhauf and drummer Sean Kilroy man their stations, guitarist Bob Shields manages to "move" by placing one leg on the stage and one off. Meanwhile, guitarist/vocalist Brad Skafish is doing his best to stay on the mic while letting a few patrons squeeze by to use the bathrooms. It's tight. It's sweaty, and it's rock'n'roll.
Skafish is having a blast, and he and Shields really enjoy the moment trading licks as Senderhauf takes a turn at the mic. It goes by too fast. For what they expect to be their finale, The Figbeats lead the crowd through a catchy singalong complete with audience handclaps. It's a great way to end the show, but before the band members can catch their breath, the audience wants more. Senderhauf tells the band's new fans that's all they know, but the masses won't be denied. Surprised and flattered, The Figbeats crank up the juice one more time and deliver an encore presentation of "Diagnosis." It's the second time the crowd has heard it, but something tells me that, like me, everyone is enjoying it no less.
None of life's major problems were solved today. Music hasn't been reinvented. And I am likely to experience another bout of road rage on the way home. But for the last hour—or probably less—everybody in the room had a really good time. And another lesson was learned. Never underestimate the power of a good rock'n'roll show to lift your spirits. Sometimes it's easy to lose sight of how easy it can be. The Figbeats are just starting out, and in all likelihood their music will continue to grow beyond these humble beginnings, but even if they do reinvent music, it will be hard to make it any more fun than it was today.