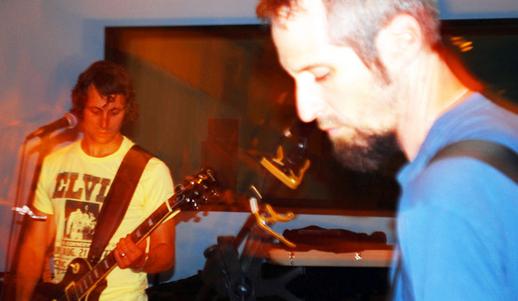 <
>

Part 1: Making the Band
August 6, 2012
There's tension in the room tonight. When I first spoke to Rambler Stuntman Bob Shields two weeks earlier about the possibility of writing about his new band, The Figbeats, he was quick to point out that it would likely be a few months before they would be ready to play a show.
Now as we arrive at the band's practice space in Michigan City on yet another scorching Monday night in July, the agenda has changed dramatically. Suddenly they are a band with only a precious few opportunities remaining before they make their live debut. The heat is on as the band settles in for a long night. There are bridges to work on, backing vocals to sort out, and two new songs to finalize. In just three weeks The Figbeats will take the stage at Delilah's, one of Chicago's longtime punk rock havens, as part of the Mystery Street Music Festival. But tonight they are just another band with a lot of work to do. That's something many people don't realize about starting a band—it's work, a lot of work, and tonight with no time to spare, the boys are sweating it out.
The member of The Figbeats range over 10 years in age. In "real" life they are lawyers, consultants, Web developers, husbands and daddies … but tonight they are a drummer, Sean Kilroy; a bassist, Jim Senderhauf; a guitarist, Bob Shields; and a singer (and guitarist), Brad Skafish. The band is a hobby, but a hobby they all take seriously. Three weeks to prepare for a show might sound like plenty of time, but when there are diapers to change and bills to pay, the time to rock is scarce.
Adding to the nerves, some of Kilroy's friends are here tonight to provide witness to a dress rehearsal of sorts. Everyone's ready to rock, and The Figbeats don't disappoint. Skafish launches right into a hooky anthem that immediately conveys the band's purpose. There is a familiar, worn personality to these songs. Whatever difficulties the band experiences in working out the rough areas, the songs still manage to provoke that feeling you get when you find yourself humming right along as if you've known them for years.
There's a punk spirit to the music of The Figbeats, but that would be oversimplifying their sound. While their forceful rhythms recall the straight-ahead approach of the Ramones, Skafish has an obvious gift for injecting arena-friendly singalong moments that manage to paint a picture in my mind of Billy Squier leading The Clash. (Note to the reader: The writer refuses to apologize for his love of Billy Squier and suggests that if this reference is too obscure, the reader should Google "My Kinda Lover" or "The Stroke.")
While these comparisons are all intended as high praise, The Figbeats are their own band, and the pieces are really just starting to fit together. Will they all fit in time for their big debut? Punk rock has always been about throwing caution to the wind and working with what you've got. A can-do attitude is the most important ingredient.
On Saturday, Aug. 11, at 2:30 p.m., The Figbeats will take their can-do attitude to the masses at Delilah's 2771 N. Lincoln Ave., Chicago, for what they hope will be just the first of many shows to come.For more information on the Mystery Street Music Festival check out https://www.facebook.com/events/311721842253689/
Coming soon … Part 2: Live From Chicago!