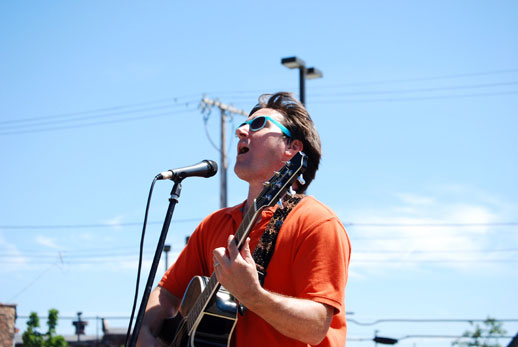 <
>

Singer-songwriter defies labels as he amasses musical arsenal
September 22, 2010
Once upon a time, I witnessed perhaps the fiercest one-man musical performance one could ever hope to encounter in a local coffeehouse. The place: the now-defunct Muse Cafe in Lansing, Ill. The year: 2005. The audience: about five people, including me. The performer: Joshua McCormack, promoting his self-released debut album "Joshua McCormack Presents Holiday Girl."
Wearing a gray suit jacket, sweating and jumping back and forth between guitar and piano, McCormack's musical stylings ran the gamut from bluesy rave-ups to soulful ballads. His voice swung from gravely tenor to gentle falsetto, often within the same song. Despite the modest venue and unexpectedly small audience, McCormack performed with the passion of a young prizefighter aiming to knock his opponent to the back of the arena.
Five years later, McCormack – who currently lives in Schererville with his family – has become a live music staple in Northwest Indiana, and his reputation as a performer has grown considerably. He usually plays with a full band now but will still play an occasional solo show. He began performing publicly in 2003 and cut his musical teeth in the open mic circuit. A born performer, McCormack has developed an energetic stage presence that deftly walks the line between provocateur and entertainer.
One of his favorite local venues to play was Hot or Not in Portage, which unfortunately closed due to a fire.
"There was a huge amount of freedom playing there, kind of an anything-goes vibe," McCormack said. "I think that I played everything from Roy Orbison to prison hollers to D'Angelo to songs from the ('Buffy the Vampire Slayer') musical episode. Toss in some original songs, and you've got yourself a nice musical jambalaya."
That "anything-goes vibe" is certainly evident in his recordings. With such a broad set of influences – including iconoclastic singer-songwriters Tom Waits and Jeff Buckley, jazz icon Billie Holiday, indie pop chameleons Of Montreal, French classical composer Claude Debussy and The Beatles – McCormack has cultivated a unique sound that is hard to categorize.
While his debut album is a homespun boutique of songs that showcases his vocal range and burgeoning songwriting talent, his 2008 sophomore album "The Funeral of the Siren" is a much more focused musical statement. The record has a timeless feel that shifts moods and styles wildly yet confidently, veering from the metal circus music of "Satan's Grand Ball" (on which McCormack sings like a deranged evangelist), the bluesy barroom shuffle of "Violent Young Tough" and the unhinged music hall of "Mary England" to the simple acoustic pop of "Without Restraint" and the driving melodic rock of the title track. The gorgeous closing track, "An Earthquake," reminds me of the late Jeff Buckley belting The Beatles' "Hey Jude" to the tune of Nine Inch Nails' "Hurt."
Speaking of the Fab Four, the annual Beatles Fest – a local event organized by the Blue Room Cafe in downtown Hammond that features local musicians covering Beatles songs – has included McCormack on the bill since its inception in 2006.
"That's one of my favorite shows to play every year," McCormack said. "It's always a bit of a guessing game as to what kind of 'interpretations' the crowd will enjoy. In 2009, we went disco glam rock for a bit of the set. I believe that some people in the crowd might have been preparing nooses as we played."
Josh also performed at the first Downtown Hammond Music & Arts Festival that took place earlier this summer, as well as this year's Pierogi Fest in Whiting.
A new record is in the works.
"It's the first time I put together an album largely consisting of songs that I haven't played live," he said. "Actually, it consists of a lot of songs that I haven't even finished writing yet. Always throwing words at pages, thinking they stick, then thinking they're terrible, then thinking they're workable, then working them out."
A self-described home recording enthusiast, McCormack recorded his two albums in a friend's house.
"I like the freedom of home recording, though it invites a bit of laziness," he said. "I'd love to record in a local studio one day. I'd have to divert from my pieced-together way of writing. Maybe one day when I've written 12 songs traditionally, I'll go into a studio."
Besides recording and playing shows, McCormack said future musical endeavors might include local team-ups.
"I'd like to make time for some collaborations," he said, "but that will be better if my family and I move into a house. I don't really have a dedicated recording space. If I had that, I'd like to work with some other artists in the area that I respect."
Any potential collaborators should consider themselves lucky.
Check out Joshua McCormack's music at http://www.cdbaby.com/Artist/JoshuaMcCormack. And check out his Facebook page – http://www.facebook.com/pages/Joshua-McCormack/122927731083474?ref=ts – for his schedule of shows, videos and more.