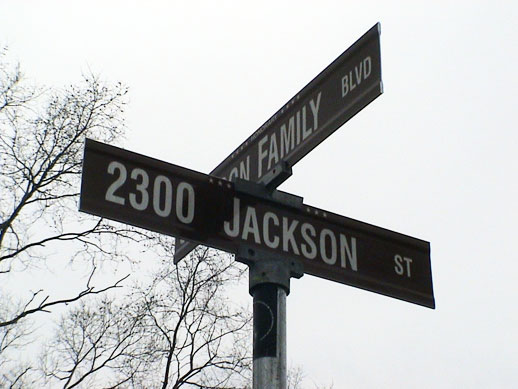 <
>

Will Michael's memory prove to be Gary's benefactor?
September 22, 2010
The sight of dancing zombies and the metamorphosis of an emerging superstar into a werewolf made it difficult for a boy growing up in The Region in the 1980s to remember Michael Jackson was at one time a Gary kid.
Jackson and The Jackson 5 remain legends in the area, especially after an interest in capitalizing on the entertainer's birthplace – in the same fashion as Elvis' Graceland – reemerged in the wake of his suspicious death last summer at the age of 50 at his Southern California home.
When I saw Jackson's face surface in the newspapers last June, I just assumed he was involved in something wacky again. I had no idea such a powerful figure of my childhood was gone.
Besides Neverland Ranch, fans flocked to 2300 Jackson St. in Gary, and the musician's birth home turned into something of a shrine. Gary Mayor Rudy Clay publicly pushed for Jackson to be buried within the city, and a memorial event was even held at the RailCats baseball stadium.
The global fixation on the musician has served as a shot in the arm to the idea of creating a Michael Jackson-themed museum or park. The proposal's been around for years and has been touted as a money maker. It's a positive prospect for Gary – transformation into a tourist destination similar to Graceland.
Jackson's talent was formidable, as a dancer and a musician, but the self-proclaimed King of Pop also was plagued by allegations of child molestation. He was a troubled figure, but he ascended to the level of international superstar, and I don't think there will be a celebrity death that occurs on that magnitude again in my lifetime.
To some, he was Captain EO who brought musical harmony to a 3-D galaxy or a beneficent presence who offered joy to sick and unfortunate children.
Growing up on "Thriller" and the excitement of his music video premieres, I'm saddened by the punch line he turned into. Hardcore fans and the Jackson family have tried to convince the rest of us that Michael was normal and his infamy the result of the media and tabloids preying on him. The reality? He became tabloid fodder and a cocktail joke on his own accord.
As "Thriller" shot up the charts, on its way to becoming a monstrously successful album, Jackson's publicity team worked at casting an aura of mystery around the man by planting stories among the press: tales of a life-preserving sleeping chamber and a preoccupation with buying the bones of the Elephant Man, among many.
Jackson was on top of the world but was obsessed with creating an enigmatic image. It backfired and stigmatized him. It overshadowed his charitable efforts, and his music started becoming less relevant.

It's hard to top yourself when you're one of the top-selling artists of all time. I appreciate Jackson's career from The Jackson Five up until the album "Bad." Songs such as "Got to Be There," "Blame it on the Boogie," "Don't Stop 'Til You Get Enough" and "Rock With You" and all of "Thriller" – except that McCartney duet – rock my world. And I like a few of his more modern songs such as "Earth Song," but "Heal the World?" A grand message of world harmony that devolves into a pool of cheese.
Irony is a little kid who sings more poignantly about yearning and heartbreak than a lot of contemporaries from the Motown era and ends up stuck in perpetual adolescence as an adult. Unfortunately, what seemed so genuine and sincere when I was a child comes off as contrived and phony as an adult. "I Just Can't Stop Loving You" or "You Are Not Alone" are by the numbers. But even those weak links resonate. Kudos to Jackson for having the talent to pull off those pop songs without becoming a lite FM station.
Whether Michael and his family felt an abiding affection for Gary is clouded in mystery. With the exceptions of the early Jackson 5 performances and a few concerts in the 1980s, it's not clear how much Michael returned to 2300 Jackson St. I wonder how much pain Jackson associated with the city of Gary, where he infamously had a rough childhood. The Neverland Ranch is about as different and radical as one can get from Gary.
One of my big regrets – a victim of my own laziness – was missing the homecoming of Jackson in 2002. He received a key to the city, and ideas for a Michael Jackson theater or performing arts center swirled once again. But they came to an abrupt halt with the second wave of child molestation accusations.
2300 Jackson St. – a small, very modest house that blends into the background – serves as a memorial and a reminder that talent can come from anywhere.
I wonder if it was the only place where he had a chance at a childhood. I can imagine the Jackson brothers rehearsing within the walls of that home.
Making memories and revisiting memories can be powerful activities that give us meaning and perspective. Perhaps Jackson's childhood home is more than just relic of a bygone time. From the ashes rises the phoenix, as the old story teaches. Maybe a new beginning is possible.
Don't stop 'til we get enough…
The rumblings of a plan to charge forward with a Michael Jackson-inspired museum are growing louder.
The city of Gary and a developer are in talks, but the risk of it failing looms large, and some think development plans will stall.
There is debate among us in The Region as to whether such an attraction would revitalize the city.
My two cents: I think a Jackson theme park or museum could make Gary – and The Region – a tourist destination for people across the world.
The King of Pop had international drawing power. And his memory endures, even as he died a little more than a year ago.
Due to Jackson's global celebrity, all eyes will be on Gary if the project inches toward fruition, and it will have to deliver something special.
I'd like to toss some ideas into the ring for a potentially cool Jackson tourist spot. Graceland, Elvis Presley's Memphis estate, allows tourists to check out how the King of Rock 'n' Roll lived. Since Neverland in California is Jackson's Graceland, a replica of Neverland with a working amusement park is an intriguing possibility. People would have paid to check out Neverland on the West Coast if they had had the opportunity so. If a full-on Neverland reproduction is beyond the reach of the project here, then scale it down.
I saw a video of an exhibit that featured possessions from Michael Jackson's home. It was cool. I would have paid the price of admission to see them. There were mannequins, figures from "Star Wars," artwork of Jackson and his arcade. Take the arcade from Neverland and transport it to Gary. People would come to play the Terminator 2 arcade game Jackson owned. How about a Moonwalker game?
Take a lead from the Museum of Science and Industry in Chicago. One of the museum's many exhibits is a 1930s styled street where you can throw down a nickel at a little theater and watch silent comedies. A theater at the Jackson park could play the music videos for "Thriller" and "Smooth Criminal" and the films "Captain EO" and "Moonwalker."
This project needs to be huge to be a bonanza to the city. To keep the masses coming in, it needs to be unique. The bottom line is it's going to take more than Jackson 5 outfits and a Tito Jackson guitar pick to bring people to Gary.