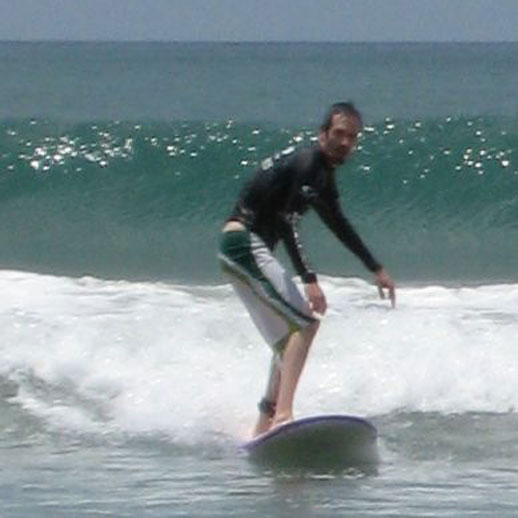 <
>

Surfers discover a 'third coast' in The Region
September 22, 2010
While backpacking through Southeast Asia last year, I ended up on the southern beaches of Bali. With my background in skateboarding and my love of the ocean, I grabbed a 9-foot surfboard and a quick lesson and rode my first wave on my first try.
I picked a smooth 4-foot crest. It pushed me at unbelievable speed all the way back to shore. I've been hooked ever since.
You'd assume living in The Region wouldn't afford me an outlet for my new passion. Don't sell The Region short, please.
When a high pressure system pulls cool air from Canada and rolls it across Lake Michigan, it's time to go surfing.
The Great Lakes are massive. I mean huge. They contain 6 quadrillion gallons of freshwater and more than 10,900 miles of shoreline, which trumps the East and West coasts combined, according to the website for the Third Coast Surf Shop. The New Buffalo, Mich., shop is owned and run by Great Lakes surfers.
South Bend native Ryan Gerard, Third Coast's founder, discovered Great Lakes surfing as a teenager. He immersed himself in surfing culture while living in Southern California and opened the surf shop after moving back to the Midwest.
The attitudes of Southern California and The Region are dramatically different, Gerard said.
Southern California surfers tend to be ultra-competitive, whereas in The Region there's a stronger sense of community and support for beginners, he said.
Surfers can ride the waves of the lake system year-round thanks to the insulating power of wetsuits, the website states. Yes, believe it or not, even in winter.
Want to get started? Try visiting the shop's website:
http://www.thirdcoastsurfshop.com
Among other things, it offers message boards where surfers stay in touch about great surf spots.
The shop offers rentals, lessons, repair work, and surf and skate gear, clothing and accessories.