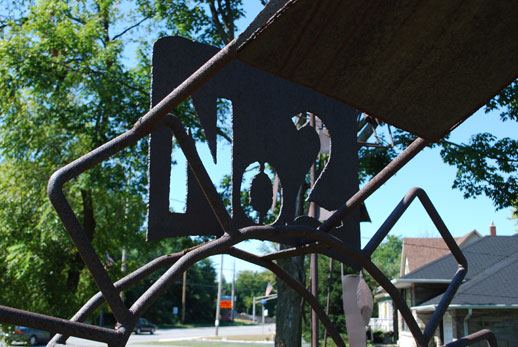 <
>

Street corner sculpture preaches the power of expression
October 12, 2010
One of the best things about writing for this website is the good excuse it gives me to dig a little deeper into some curiosity that's drawn my attention for years.

One such curiosity is the "Yesterday & Today for Tomorrow" sculpture at the corner of Ridge Road and Columbia Avenue in Munster. I grew up in Hammond and frequently visited my cousins in Munster so my family drove past the sculpture often.

As a child, I felt a sense of wonder and perhaps a bit of fright at the sight of the skeletal-like figures rising to 15 feet and looming over Columbia. I didn't realize the sculpture had meaning beyond its obvious place as a public piece of art until I got a bit older. Its significance is quite relevant to our area.

The three beautifully rusted steel men standing on the corner are actually an Indian, a farmer and a steelworker, standing tall and representing the foundation of our region. I contacted the artist behind the figures -- Fred Holly, of Highland -- to find out a bit more about the sculpture and the man that brought them to life.

I went to the Lincoln Center in Highland and found Holly in a large classroom, wrapping up a class he teaches to local kids. This particular class he teaches over six weeks, introducing the kids to clay sculpting, painting and drawing. He likes to expose them to a new medium each week if time allows. He also teaches 13 other art classes throughout the week, mostly acrylic painting and Prismacolor pencil technique. He travels from Tinley Park and South Holland, Ill., to Hammond, Highland and DeMotte, Ind.

At a time when very few works of public art graced The Region's landscape, "Yesterday & Today for Tomorrow" was commissioned by the Rotary Club in celebration of its bicentennial in 1976. Holly submitted a maquette, a small version of the big guys, and was then asked to construct the full-sized pieces. A steel mill in Northwest Indiana donated COR-TEN steel, a steel alloy with a rusty appearance, to the Rotary Club, and Holly contacted his friend Bill Ore to help him weld the pieces together.

Holly recalls sleepless nights, working out the measurements of the small figures and calibrating them to the proper size on a 15-foot scale. The original vision for the piece was to have steel plates going all the way around the figures, so they would actually be formed in the round, but he wasn't able to acquire enough materials. The project took almost a year and was aptly named through a local contest in which kids could submit their suggestions.

For those wondering what the #2 on the steelworker figure stands for, Holly explained that if you lived in Hammond at a particular time, you knew about the big #2 open hearth furnace at Inland Steel. That was where they poured all of the steel, and he felt it was an appropriate touch.

Holly shared his one disappointment about the final piece.

"The one thing I wish we would have done, and we didn't, the farmers used to put leather straps over their shoulders, and it was hooked to the horses so that they kind of guided them along the plow," he said. "I wish now that I would have taken some steel ribbon and run it out there like they were attached to a horse, but we couldn't figure out how to attach them, and we thought they would be a hazard."

"Yesterday & Today for Tomorrow" is Holly's only local piece of public art. He created a crucifix for the University of Texas that is housed in one of its chapels.

I soon discovered Holly's formal education is no less impressive than his work.

It's not a great surprise Holly pursued an education in the arts. During his childhood in Hammond, his mother was a skilled pastel artist, and his father played with the Chicago Symphony Orchestra. He started college at Indiana University, and after a year he began classes at the Chicago Academy. From there he transferred to the School of the Art Institute of Chicago, where he was asked to get involved in the restoration program at the museum.

He received his master's degree from Columbia College in Chicago, then studied in England for two years at Cambridge University under its restoration program sponsored by Sotheby's. Upon completion of his doctorate degree, Holly returned to the Midwest and worked at the Art Institute of Chicago, restoring paintings for the museum. He retired from the Art Institute about 13 years ago.

As an artist, Holly would like to see the local art scene gain some exposure. He feels there aren't enough outlets for local artists to exhibit their work. Some of the local facilities that have shows tend to pull in artists from Chicago. There are a number of talented artists right here in our area that would be thrilled to show their work at these facilities. Unfortunately, these artists have to look outside of the area to show their work.

For young, aspiring artists, Holly suggests taking their time. It takes a great deal of patience to be successful as an artist, and having realistic expectations is also key. Only a small percentage of art school graduates will actually go on to make a career for themselves as an artist.

One of the biggest challenges facing young artists today: "One of the things that's really bothering me is some of the high schools ... because of budget cuts, are cutting out music programs and art programs, and that's a sad thing because not all kids can play football, and some kids are not that academically astute, so it's sad that they're going that route," Holly said. " I certainly hope that these kids find somebody that can mentor them and get them going."

At the end of the interview, I asked Holly to tell me a memorable story about being an artist. Though he has many great memories, he recounted a time when he taught an art class for seniors at the Oak Grove Christian Retirement Village in DeMotte. His mother was a resident there and was treated well, so he visits at least three times a year to do demonstrations. He agreed to do a still life. When he asked how long he had, officials told him just 20 minutes. He said he couldn't possibly do a painting in 20 minutes. Their reply was that if it took longer than 20 minutes, everyone would be asleep.

Holly laughed. "I have a ball when I go down there. They're very good people, and I've made a lot of friends with a lot of the folks that are residents there," he said.

Holly is an accomplished artist with pieces of his work in the Indiana State Museum's permanent collection, and he has won prizes for his work at the Hoosier Salon. When asked what his biggest accomplishment is, without hesitation, he answered, "Teaching."

"I think I have had some success with my artwork, but the greatest success a person can have is to pass on what you know how to do to somebody else and let them experience it," he said.

Art is an essential ingredient in the enrichment of our lives. Civic art such as "Yesterday & Today for Tomorrow" has touched the lives of many people and will continue to do so for years to come. There's certainly not a shortage of talented artists in Northwest Indiana making our world a more beautiful place to be. We must guarantee a future for the arts in our area by placing higher a priority on programs within our schools, stimulating growth for those interested in the pursuit of art education.