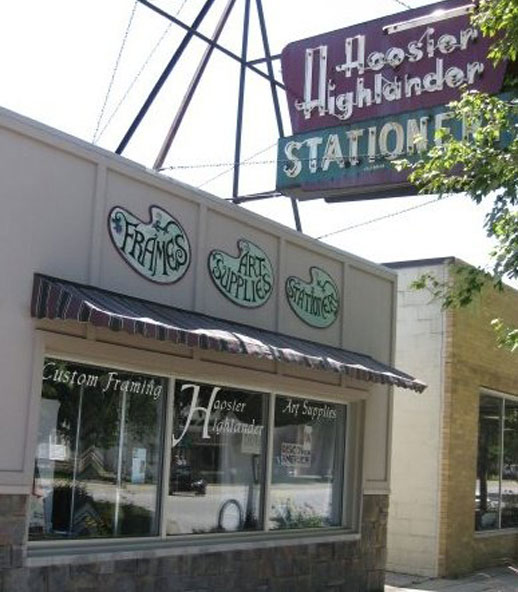 <
>

Art store encourages mingling
September 20, 2011
Nestled in Highland's small downtown is a little store with grand ambitions. The Hoosier Highlander provides supplies and framing for local artists and collectors, but it reaches beyond its role as a seller of goods and services. It's a hub for Artist Trading Cards in The Region.
I'm an artist, and this store has inspired me to come back and load up on the supplies I need to draw, paint and frame my work. And the trading sessions have become the highlight of my experiences there.
When it opened in 1946, the Hoosier Highlander was mainly a stationery supply store, but it eventually expanded its offerings. In October 1994, Donna Freeland and Sue Ferguson took over ownership and reopened the store that Halloween.
In the beginning, they wanted to offer party planning services.
"We did not realize that the store and its functions would quickly consume all our energies and that (party planning) would not be possible," Donna said.
They became wise to a change in their customers' needs and switched from selling office materials to art supplies and custom framing. In essence, they decided to not be a cookie-cutter store serving a cookie-cutter clientele. The Hoosier Highlander also offers material for making invitations and creating scrapbooks.
The store took up the torch for art promotion when it joined a worldwide movement a few years ago involving swaps of Artist Trading Cards.
Swiss artist Vanci Stirnemann started the pursuit in the mid-1990s. He created more than a thousand small, baseball card-sized works of art for an exhibit. Instead of selling the cards, he traded with other artists who, in turn, created small pieces of art.
Soon the swaps went global and spawned a community on the Internet.
The Hoosier Highlander holds swaps quarterly.
"We were inspired to hostess swaps by our framer Abbie Cashman," Sue said.
The trading sessions now include entertaining and educational presentations and demonstrations by local artists, who have included children's book illustrator Patrick Girouard and calligrapher Julie Wildman.
So, what does the future look like?
Donna and Sue plan to update the store to better promote their custom framing and create room to accommodate larger groups for demonstrations and classes and open up networking among artists.
The Artist Trading Card swaps and presentations take place four times a year: from 5 to 7 p.m. the second Thursday in February, May, August and November.
The store is at 2932 Highway Ave., Highland. It's open from 9 to 5 p.m. Monday to Friday and from 9 a.m. to 2 p.m. Saturday. For more information, stop in, email info@hoosierhighlander.net, visit http://hoosierhighlander.net/index.htm or call (219) 838-0632.