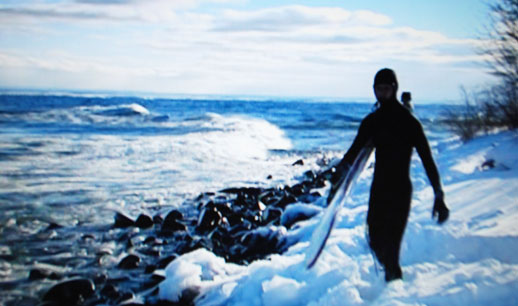 <
>

A Film by Vince Deur
January 1, 2012
As I watched the snow falling and the listened to the wind howling outside while making my coffee this morning, a thought occurred to me: Somewhere on Lake Michigan right now somebody is surfing. I know this because back in the infancy of this thing we call the Rambler, as we were preparing to work on a story about The Region's surprising surf scene, I learned of a film by surfer Vince Deur.
We had planned to review the film at the time, but time got away from us. Maybe it was lucky in a way because to truly appreciate Deur and his film—and the insane group of surfers dedicated to finding the ultimate Great Lakes surfing experience—you need to reassociate yourself with the reality of life on Lake Michigan and its sisters during the winter months. Now that you've had the chance to dig your car out of the snow, just to go to the store, pour yourself a cup of hot chocolate and treat yourself to this film about unimaginable dedication.
The film's name, "Unsalted," is a reference to the largest bodies of freshwater anywhere in the world. All of this freshwater just happens to be located right in our backyard—a fact easily taken for granted. Growing up in the Midwest, Deur was bitten by the surf bug and like any rational person looked to the coasts and all the traditional locations to satisfy his surfing desires. That is, until he discovered that the Great Lakes has its own surf culture. Following a near-death experience that served witness to the power of the Lakes, Deur vowed to make a film that would show the world that serious surfing could be found in the great white north.
The catch here is that the best time to surf the Great Lakes is also the best time to stay home with a crackling fire and a good book. Watching educated people with families and day jobs as lawyers and doctors trudge through snow and ice in wetsuits to catch a wave is compelling stuff to be sure. The film is expertly shot and really puts you into the world of a man and his obsession. While giving a good background on the history of surfing the Lakes that goes all the way back to the 1950s, "Unsalted" builds to a wonderful climax as Vince and his team drive through some of the worst Midwestern winter storm conditions imaginable looking for the perfect wave.
I cannot recommend this film enough. Even if you could care less about surfing, there is something to learn here about living.
To view the trailer and buy a copy of "Unsalted," visit Vince's website — http://www.unsalted.tv/ — or pick up the DVD at the Third Coast Surf Shop in New Buffalo, Mich.